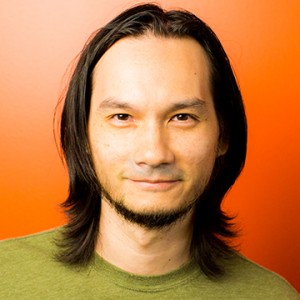 James Phinney
Vice President, Product Development
James Phinney is vice president of product development at Motiga, an online PC game studio that wants to create fun. Phinney joined Motiga in 2013 as lead designer, then creative director and executive producer, where he drove the creative vision and design for Gigantic. Now the vice president of product development, Phinney collaborates with Motiga's designers, artists, and programmers, setting the course for new game features and organizing playtests that capture the entire studio's attention every afternoon.
Before Motiga, Phinney spent his career quietly making some of the most influential, critically acclaimed PC games of all time. He began his career with Blizzard Entertainment, where he worked in the design, production, and programming fields. He was the lead designer and producer on StarCraft, a game that not only has become a cultural phenomenon in many countries with multiple millions of copies sold, it has also been named one of the best games of all time by GameSpot, IGN, and Game Informer magazine and gave rise to professional e-sports in South Korea. He went on to become the lead designer and then creative director for the Guild Wars franchise, which launched to critical acclaim and has sold nearly 10 million copies. He also counts huge hits like Diablo, Warcraft II, and State of Decay among his credits—each of which have sold more than a million copies.
It's his success in bringing great games to life that led Beckett Massive Online Gamer magazine to name Phinney one of the 2007 Top 20 Most Influential People in the MMO Industry.
While many designers before him would be contented with the success of StarCraft alone, Phinney kept pushing forward his own brand of game design across as many platforms as possible. Look beyond the sales numbers and shelves of awards, and you'll see an uncommon versatility to Phinney's designs. His resume includes real-time strategy games, massively multiplayer online roleplaying games, action RPGs for PCs, and a third-person survival game for consoles…all across different art styles and themes, all of which are enjoyed by millions.
Phinney is someone who has successfully made his passion his vocation. As such, Phinney heads home each night and designs card, dice, and board games for fun.