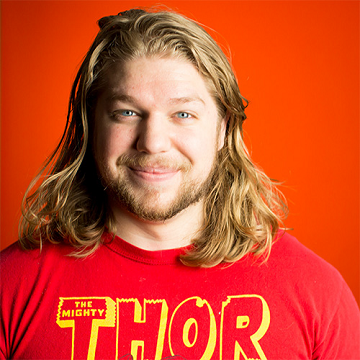 Forrest
"

Thor

"

Raynard

Streaming Community Relations Specialist
If it includes Motiga's live media plans, Forrest "Thor" Raynard is at the heart of it. His official title is "streaming community relations specialist," which means giving the community a behind-the-scenes look at what it takes to make—and play—a game like Gigantic. Twitch, YouTube, and other streaming media are all part of Thor's domain.
An inveterate reader, Thor grew up immersed in Star Wars and countless fantasy novels; he's been known to go days without eating when in the throes of a good book. He also spent afternoons glued to G4 TV and caught the broadcasting bug. When Thor was still in college, Electronic Arts tapped him to stream for an upcoming MOBA title, Dawngate, and he's been a partnered Twitch streamer ever since.
As a frequent host for all things Gigantic, Thor loves the immediacy and two-way communication that livestreaming offers—a chance to directly communicate with the community on a live basis and spread his boundless enthusiasm across the internet.