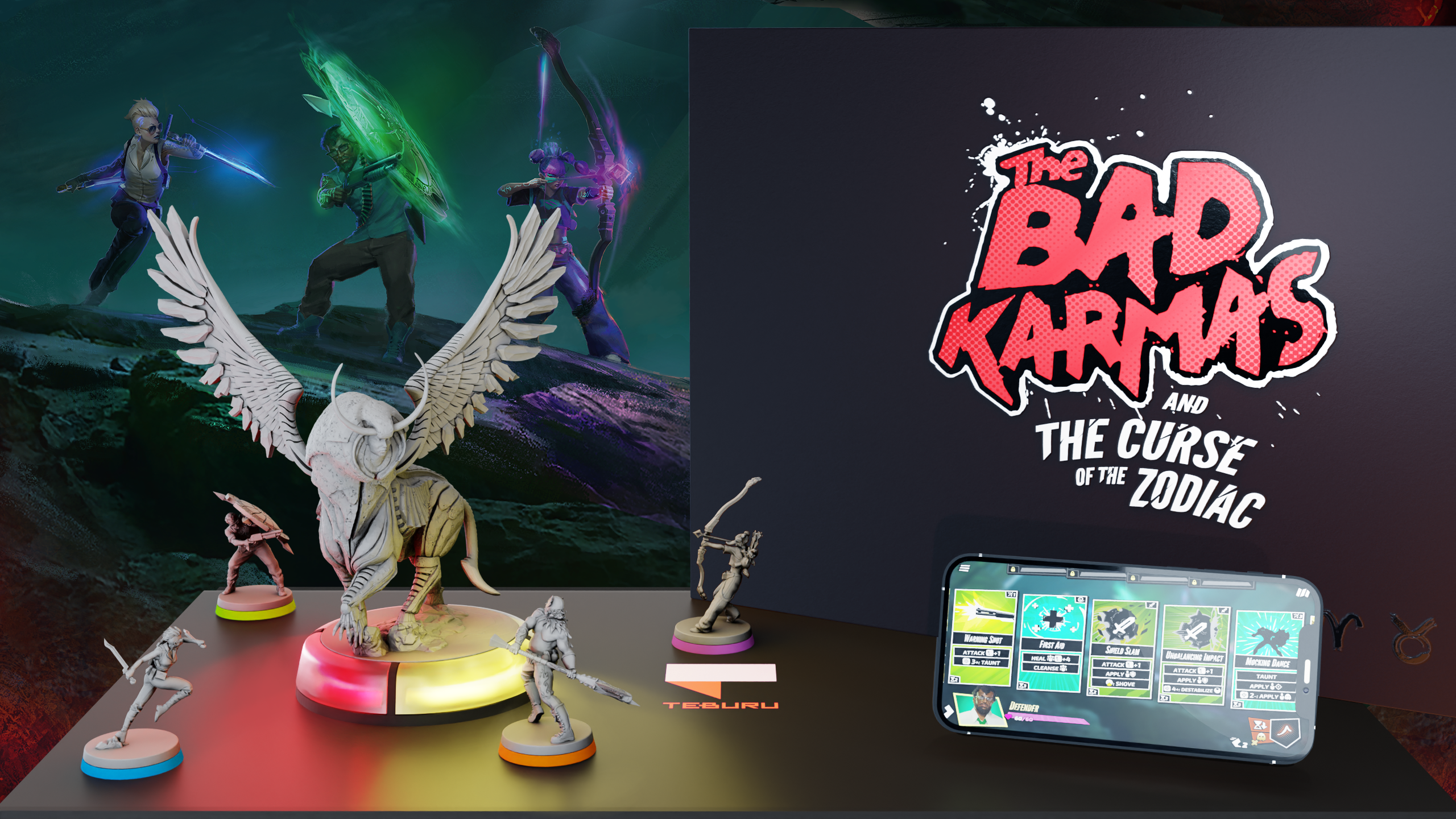 About The Bad Karmas and The Curse of the Zodiacs
Okay, so 12 horrifying gigantic demigods called Zodiacs have awoken and want to extinguish human civilisation. Pretty crappy day. And it turns out only you and your band of unlikely heroes can defeat these monster a-holes and save us all. Ready? Yeah, you were born ready.
The Bad Karmas and The Curse of the Zodiac is a cooperative boss-battle board game with a new digital dimension. Work together to defeat the 12 Zodiacs who evolve and respond in real-time to player actions, creating a tabletop experience like no other. The game comes with smart miniatures, board, dice, a companion app, and the new Teburu game system, which enhances gameplay with vivid visuals, exciting sounds, and dramatic storytelling. Encounter unique spectacular battles, surprising moments, and epic cinematic events all brought to life with Teburu. Adventure doesn't come much bigger!
But that's where The Curse of the Zodiac's big unique selling point comes into play. According to Xplored, this board game is will be the debut of a new gaming system called Teburu: a media-rich experience featuring narrative twists and recurring characters, remote multiplayer so long-distance friends can try it out.and an AI game director that keeps track of everything on the board. Because of this, there are no rulebooks or manuals required. But because of all of this level of Bluetooth multimedia integration, Garofalo shot down any hopes for a more conventional analog experience. He declared that no compromises would be made. If you want to experience The Curse of the Zodiac, you will experience it through the Teburu app and system.
About Xplored
Xplored is a game innovation studio working in full development, from concept to release, for hardware & software IPs.
Founded in 2008, Xplored is the creative technology partner of renowned brands such as BandaiNamco, Ravensburger, Clementoni, 505 Games, and has released over 100 games, always delivering on time and budget. Thanks to consolidated organic growth, today Xplored has a 30 strong, multi-disciplined team on staff, based in a restyled villa on the Italian Riviera that features the latest kit and play and relaxation areas.